Buried Treasures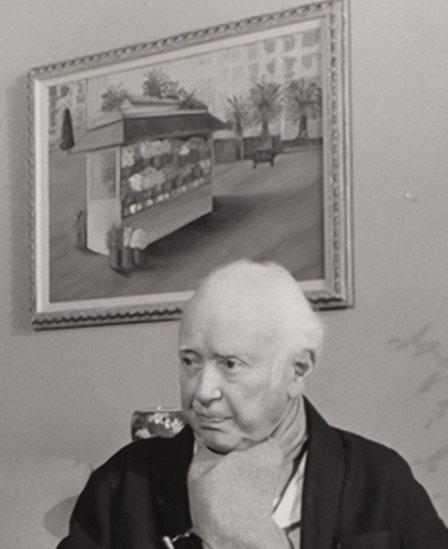 Hills of Eternity Mausoleum, Terrace of Hope, fan south, C-3
It is hard to condense an appropriate tribute to this man who had such an impact on the Jewish and civic communities for 40 years in San Francisco. Born in New York in 1905, he obtained a Rutgers University law degree but did not practice. A consummate salesman, he once stopped traffic in downtown SF with a truckload of rare nylon stockings he had delivered to the old Weinstein's department store during wartime. His October 13, 1991 obituary in the San Francisco Examiner gives him credit—along with Fairmont Hotel owner Ben Swig and clothing maven Adolph Schuman—for reshaping traditionally Republican San Francisco into "the liberal stronghold of today." He was an advisor to political leaders, both locally and beyond, including Mayor Shelley and the Kennedys, and a powerful political fundraiser. A driving force behind the SFO airport, he spent 15 years as the president of the airport commission. His pioneering of the concession development program transformed the profitability of the airport and was emulated nationwide.
Imbued with a sense of fairness and always "looking out for the little guy," Mr. Bernstein crusaded against discrimination in the SF Fire Department and, as Fire Commissioner, was in charge of its integration. In 1989, he was honored by the Jewish Community Federation. That year, an October 6 article in the Jewish Bulletin listed his many accomplishments, highlighting his winning of the UCSF Medal in 1975, and his membership on the UCSF Board of Overseers since 1980. A member of the Mount Zion Board of Directors, he also spearheaded the Maimonides Fund of the Jewish Community Endowment Fund. This fund dispersed many grants over time, including to the Marin Campus of the Maimonides Therapeutic Swim Center. The money provided equipment at the center to help those "with a variety of ailments, including spinal cord injuries, cerebral palsy, arthritis, and heart conditions." Later in life, Bernstein also spent a great deal of time and energy supporting and raising funds for the meals served to needy and homeless people through "Mo's Kitchen" at Glide Memorial Methodist Church. He was married to Rea Kupper Bernstein for 63 years.
This plaque at SFO commemorates his service to the airport:
DEDICATED TO
MORRIS "MO" BERNSTEIN
PRESIDENT OF THE SAN FRANCISCO AIRPORT COMMISSION
FOR THE LEADERSHIP HE PROVIDED TO SAN FRANCISCO
INTERNATIONAL AIRPORT, HIS COMMITMENT TO ESTABLISHING
SFO AS THE STANDARD FOR EXCELLENCE IN AVIATION AND RETAIL
CONCESSION DEVELOPMENT, AND HIS DEDICATION TO HUMANIZING
THE AIRPORT ENVIRONMENT FOR THE TRAVELING PUBLIC.
MR. BERNSTEIN WAS A MEMBER OF THE AIRPORT COMMISSION
FROM 1976 TO 1991. HE HELD THE OFFICE OF PRESIDENT OF THE
COMMISSION FOR 13 YEARS